Vintage Makeup Tutorials – 1920's to the 1960's
Beautiful vintage makeup and beauty tips, tutorials and rare downloadable books for women from the 1920's through to the 1960's.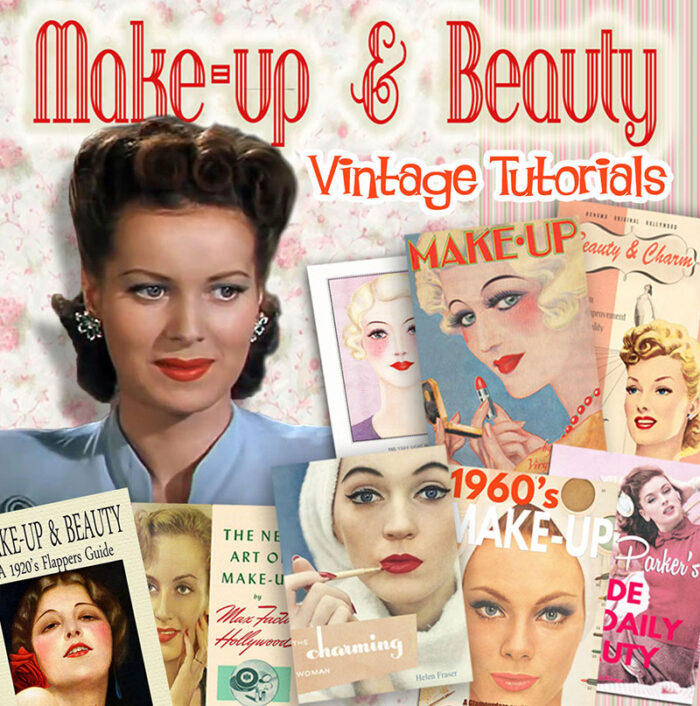 Download all our Vintage Makeup Tutorial books together – a bargain !
Direct to your device.
A Bargain Pack of all our beautifully restored vintage makeup tutorial books – from the flapper age of the 1920's, the 1930's Hollywood look, the pin-ups of the 1940's, the golden glamour of the 1950's, right up to mod 1960's.
Genuine advice for women by beauty experts of the period. A trip on a time machine, back to gentler, more feminine days. And the advice and tips are fabulous. So treat your self, best friend or loved one to a pleasant surprise. PDF e-book – Can be read on your smart phone, tablet or laptop!
Bargain Bundle Price: $19.99
---
Vintage Guides Bundle – spanning five glamorous decades
For more details of what you get, see below !
Vintage Makeup Guide Books – Video Summary
1920's Flapper Makeup Book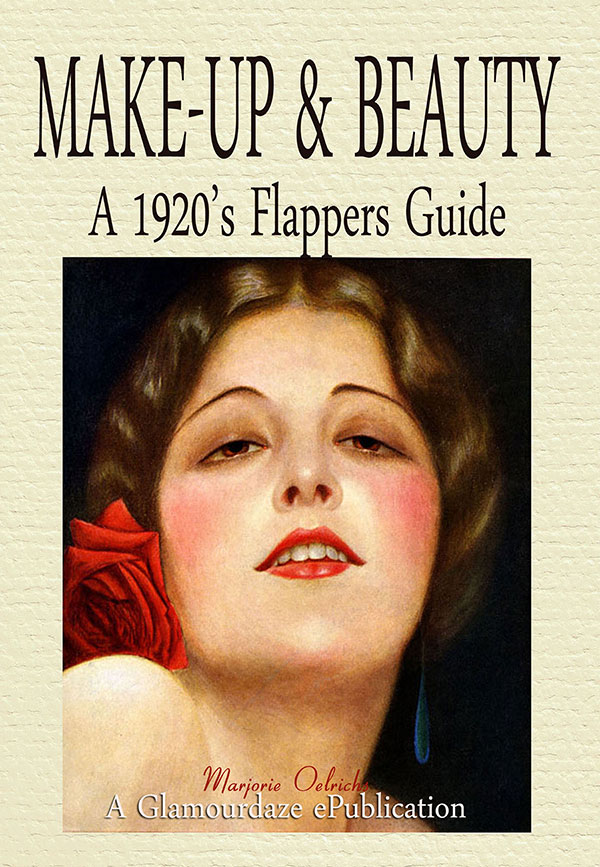 Learn the look, styles and demeanor of a 1920's woman as read by ladies of that era.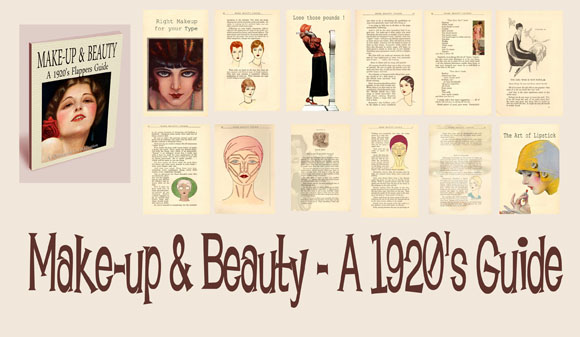 What Make-up Type are you ?
Weekly restoring work.
Corrective work.
Diet and beauty.
How to care for your hair
How to be a popular girl.
Right make-up for your color.
The 1920s philosophy of beauty.
and so much more !

1930's Makeup Tutorials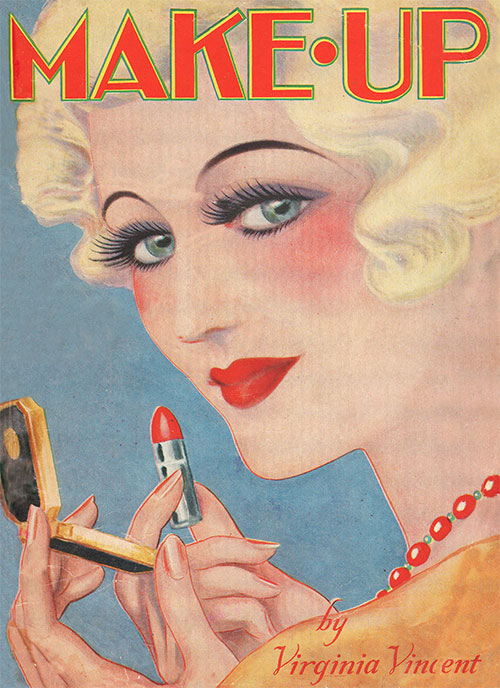 The Glamorous era of 1930's Hollywood makeup styles – how they achieved the looks.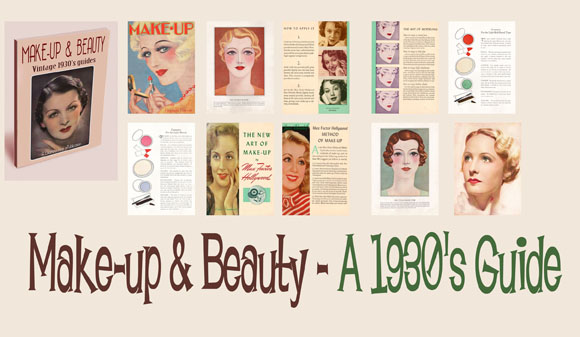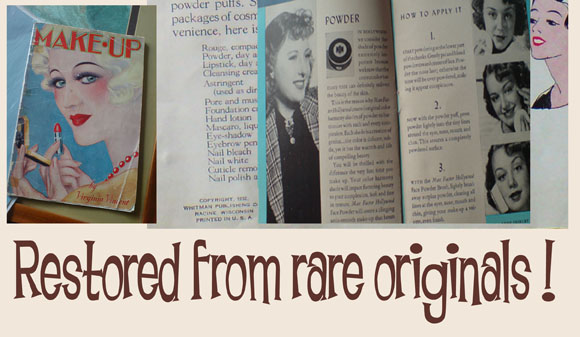 Make-up by Virginia Vincent 1932.
The purpose of this book is to help you in making up your face, observing contours and colors of the early 1930s period.
Make-up for the :
Light Blonde type.
Golden Blonde type.
Chestnut brunette type.
Dark brunette type.
Titian-Haired type.
White-haired type.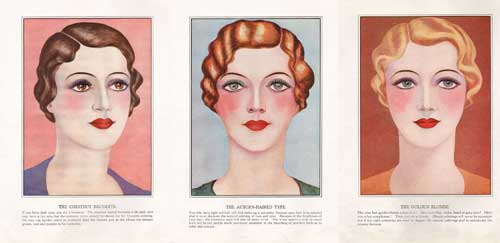 The New Art of make-up by Max factor.
Learn tips from the master, as taught to Hollywood actresses such as Carole Lombard and Claudette Colbert.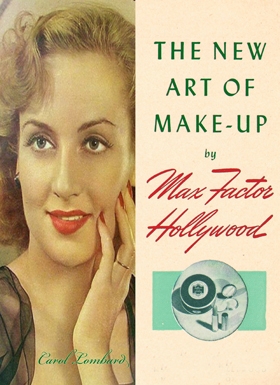 Harmonizing
Powder technique
Lipstick technique
Rouge technique
Care of skin before and after make-up
and so much more !
1940's Makeup Tutorial Books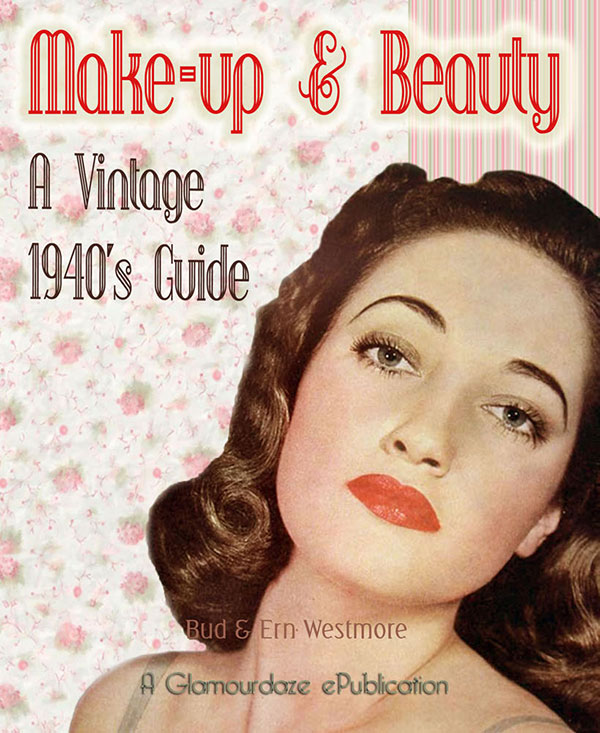 The Westmore brothers definitive guide to Hollywood make-up styles of the 1940's. A rare out of print book, lovingly restored with full color illustrations.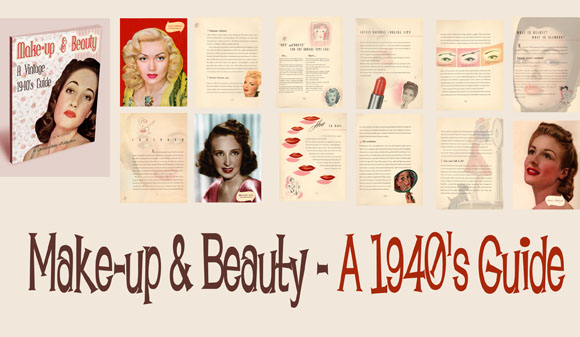 What is Beauty ? What is Glamour ?
Make-up and glamour for your skin type.
How to restore beauty.
Do's and Don't s for your face shape
Correct hairstyles for your face type
The Right Make-up for your eyes, nose and lips
The correct way to apply make-up
Glasses versus Glamour !
and so much more !
Bonus – 1940's Beauty & Charm – Makeup Tutorial Book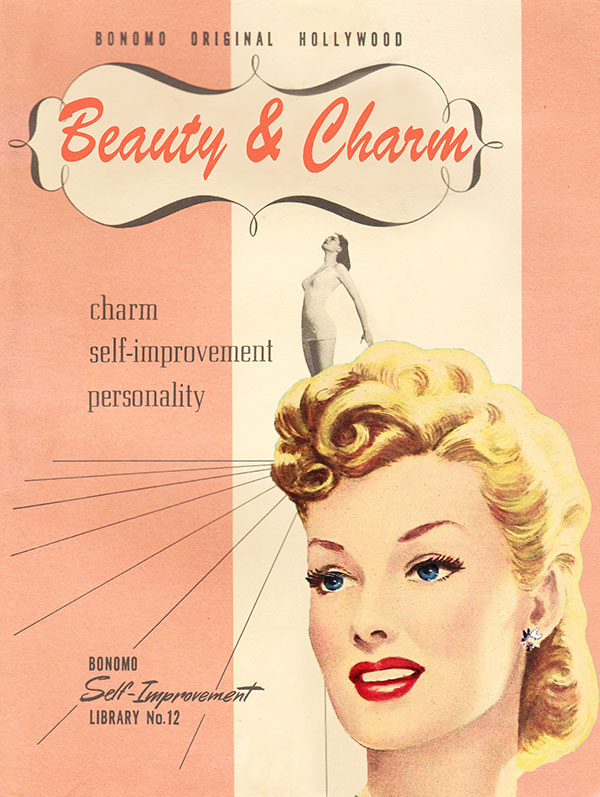 PLUS a brand new addition – 1940's Beauty & Charm. This is a rare gem. A textbook to beauty for the 1940's woman by a leading beauty and fitness expert.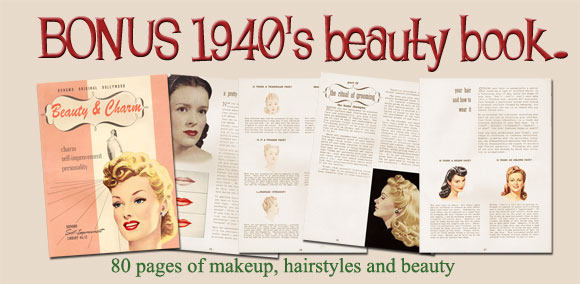 Your Type – Womanly, Aristocratic, Exotic, Outdoor girl, Gamine, Sophisticate.
Exercises and diets.
How to make up to your 'face type'
Glamorous pin-up Eyes.
How to do pin curls
1940's manicure tips.
Clothing advice – your type, colors .
and so much more !
1950's Makeup Tutorial Books
Two beautifully restored and illustrated make-up and beauty guides from the 1950's. Original advice as taught to women of this glamorous era.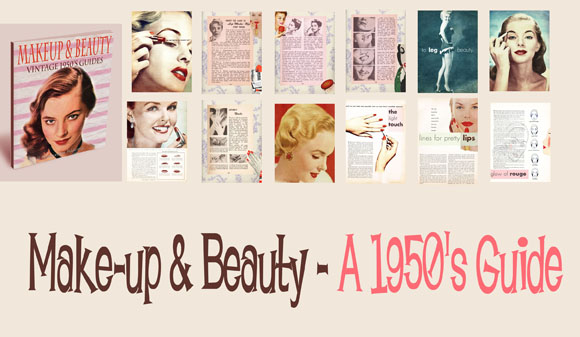 What is beauty ? Glamour? Charm ?
Prepare your intimate loveliness.
What is your face type
Facial exercises to aid beauty
Get a Lovelier neck
How to apply eye, lip, face make-up
Mascara tricks
The 1950's secret – Eye marking
Powder your arms
and so much more !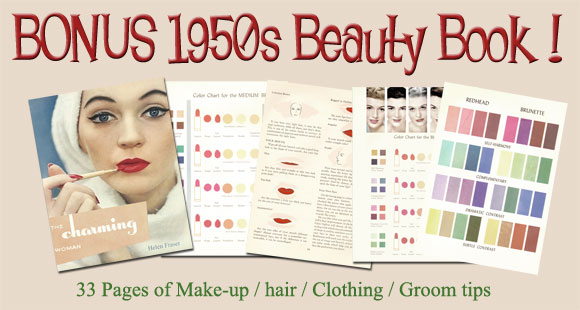 PLUS a brand new addition: The Charming Woman, an excellent and beautifully illustrated beauty book for the 1950s woman, edited by Helen Frazer, with contributions from top beauty gurus ( including the great Helena Rubinstein ).
Includes:
Color Harmony Course – by Helena Rubinstein – ( for all hair color types )
5 Page Make-up Color Chart to match Color Harmony.
Care of Hair and Nails
1950s Diet
Etiquette in the 1950's
Skin Beauty – Helena Rubinstein
Wearing the correct Hats
Leg Beautifying
The 1950s Wardrobe
and much more!
1960's Makeup Tutorials
DOWNLOAD INSTANTLY – direct to your smartphone, tablet or desktop. Two beautifully restored make-up manuals from the turn of the swinging 1960s. Beautiful and inspiring. PDF e-book – Can be read on smart phones / tablets / desktops!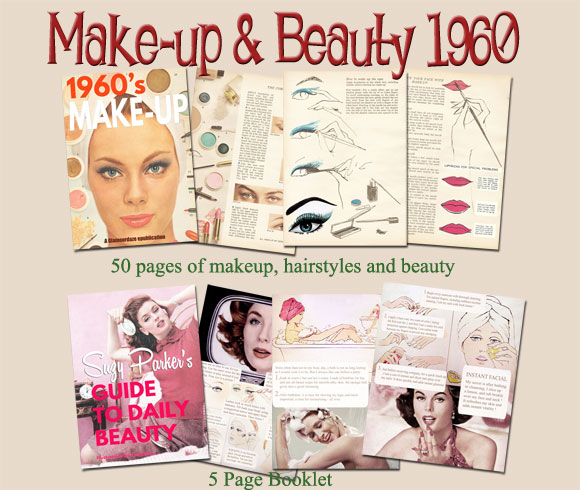 1960's Make-up – Illustrated 1963 Tutorial.
How to choose your make-up
Harmonizing color
Balancing your face with make-up
Shaping the brows
Complete Step by Step
How to make up the eyes
What to do if you wear glasses
Complete 1960s Skincare course
Face saving facial exercises
Hand care and the 1960s Manicure
Bonus Booklet – Suzy Parker's Daily Guide to Beauty
Arguably the world's first "Supermodel" Suzy Parker was an American model and Vogue magazine's "face of the post war American woman".
Her career as a model reached its height in the 1950s, appearing regularly on the cover of dozens of the most elite fashion and beauty magazines as well as in advertisements and several screen roles.
Get all five decades ! Treat your feminine heart !
Get all EIGHT guides – Direct to your smartphone, tablet or laptop.Beautifully restored illustrated beauty guides from the flapper days of the 1920s right up to the beginning of the 1960's –
Bundle Price just $19.99.
You can also purchase each of these decades individually. Simply scroll back to our menu to find the links to each shopping page.
IMPORTANT INFORMATION
Vintage Makeup Guides
Beautiful vintage makeup and beauty tutorials for women from the 1920s, 1930s, 1940s, and 1950s.
Illustrated books, tips and style looks. From Flapper to Pin-up.
Contact us
If you have any issues with product delivery after payment,
don't hesitate to contact us and we'll send you a fresh link.
Payment via PayPal / Credit card / Debit card
On payment you'll be sent to a secure Download Page. You will also receive an email with the Download Link.
Supply an Email address during payment process.
We'll send you your download link
You can also click RETURN TO RADIO IMAGE – which will take you to a unique Download Page.
Use iBooks to read your Vintage Makeup book on your iPhone, iPad, and iPod touch !
Read on Kindle or any Smartphone device.
Quickly open your PDF books
with Adobe Reader App !
Downloading the books
For a PC owner – Right click on the link and download to your desktop or to a folder of your choice.
For a Mac owner – Hold down the ctrl key before you click your mouse button.
Save the target file to your desktop or to a folder of your choice.
Open Adobe Reader -[ works best with the latest version 11 – which can be updated via the Help on toolbar ]
If you are using an Apple Mac- make sure you download the Adobe Reader for Macs.
Navigate to the downloaded file and open it from within adobe reader.
ADOBE READER NAVIGATION.
To navigate easily through the books – you can can click on chapters on each content page –
Alternatively use your ' navigation pages panel'
To open the navigation panel, do one of the following:
Click any panel button on the left side of the work area to open that panel – or –
Choose View > Navigation Panels > Show Navigation Panel.
Note to customers.
Should you have any difficulty in receiving your downloads, contact us immediately
with your transaction receipt and we will forward your products by return. Thank-you
Disclaimer.
All guides presented here have been lovingly restored from old manuals and magazine articles believed to be out of copyright control.
After careful research were determined to have had no renewals filed by original copyright holders prior to 1964.
Under US Copyright and Fair Use Law are believed to be in the Public Domain.
Vintage Make-up Guide.com