Rare 1940s Hairstyle tutorials
Beautifully illustrated digital books direct to your device
Rare 1940s hairstyle tutorials by the famous Ivan of Hollywood offer a unique insight into the secrets of hairstyle techniques of the war era.
 Plus – a bonus copy of 1940's Beauty & Charm – our popular 40's makeup and style book.
Price $12.99
1940's Creative Hair-styling – by Ivan of Hollywood
Featuring:
The Basic Details of Hair-styling
Hair Parts
Waves
Half-Waves
Curls
Rolls
Pompadours
Bangs
Combing Hints
How to Apply Art Principles to your Hair
Most becoming Styles for the Five basic Face Shapes
General Art Rules of Hair styling
How to Design Hairstyles
For the Junior Miss
For the Young Woman
Hairstyles for Chic Matrons
Hairstyles for Sports
Semi-Formal Hairstyles
Formal Hairstyles
BOOK TWO
1940's Hairstyles You Can Do – by Ivan of Hollywood
This Amazing Book Shows You:
How to select the most becoming haircuts and hairstyles for your particular face type
Minimize facial and head irregularities
Finger wave and how to make sculpture curls
Set and comb flattering hairstyles for women of all ages
Create rolls and bangs !
Plus bonus Copy of 1940's Beauty & Charm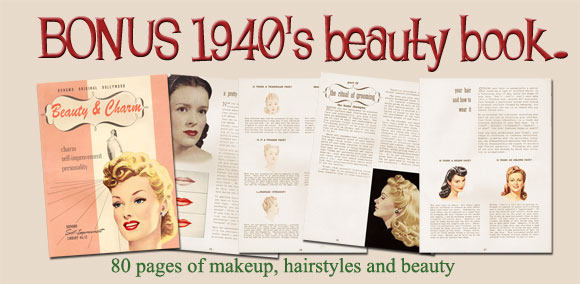 DIRECT TO YOUR DEVICE
Price  $12.99  
Remember to supply an email address for your delivery. Should you experience any issues upon purchase, contact us and we will send you your ebooks by reply.