Beauty Tips of a Hollywood Legend –
Hollywood has long been filled with unique beauty icons, each with his/her own long-lasting legacy. Even today's A-list celebrities still look upon the stars of the Golden Age for inspiration. For instance, Jennifer Lawrence's sexy and seductive look might remind you of Mae West's own sensual beauty back in the 1930s.
Among the long list of legendary women, Elizabeth Taylor certainly stands out. Her beauty enraptured audiences for many decades, and her already exquisite features were enhanced by the makeup tricks she and her army of stylists used.
Rosy cheeks – Elizabeth Taylor make-up hint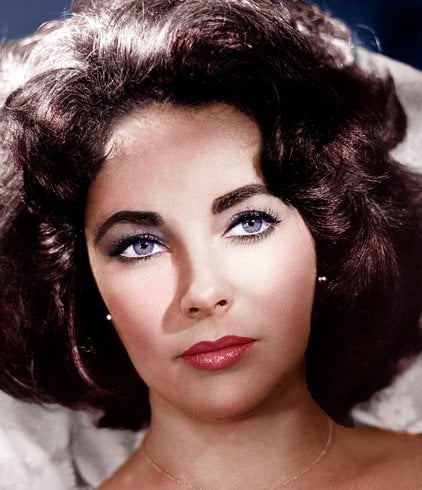 Among all the items she put on her glorious face, Taylor favoured blush the most. It added glow and colour to her fair complexion, and highlighted her cheekbones, which helped her appear more sophisticated.
Red lips – Elizabeth Taylor make-up hint
The actress applied more colour to her face by using vivid red lipstick frequently. She was one of the stars of the '50s that helped make red lips a staple beauty trend. The bright red tone she used allowed her lips to pop out even more against her light skin.
Full eyebrows – Elizabeth Taylor make-up hint
Everything Audrey specified Taylor's eyebrows were her most stunning features due to their fullness and thickness. They were usually arched at just the right degree, and the look was achieved with the help of a good eyebrow pencil.
Colourful eye makeup – Elizabeth Taylor make-up hint
Taylor's eye makeup was usually as striking as her iconic purple eyes. A clip from one of her movies where she puts on blue eye shadow even went viral recently on Instagram. It is reported that she likes to make her eyeballs look whiter, and blue eye shadow helps create this particular effect. "Blue is on the opposite side of the color wheel and balances a red eye," explained Ida Gàl-Csiszar, makeup artist and Gállány beauty founder.
Eye shadow as eyeliner – Elizabeth Taylor make-up hint
The thespian's eyes were enhanced even more by a unique makeup hack she used: applying eye shadow like eyeliner. After applying eye shadow to create a smokey eye effect, she would use the same brush to shape her eyes further and even put on a wing tip.
Eternal inspiration
Elizabeth Taylor's movie looks are still revered across the world and raised the bar in terms of beauty. Her role as Egyptian Pharaoh Cleopatra transformed Taylor into a global star, and the make up she used in the film broke new ground.
With her dark-lined smokey eyes, she reintroduced the Ancient Egyptian style to the film world, making it relevant once more. Because of the weight that Taylor brought to the film, it went as far as re-establishing Cleopatra in pop culture. This also helped the style transcend generations. The Ancient Egyptian ruler is a commonly used theme in digital media because of her mystique and elegance. For instance, video games often use the iconic ruler at the forefront of their branding. The Cleopatra mobile slot game on Slingo uses her iconography in its logo, while actress Lyndsey Marshall replicated the famous style when she portrayed the ancient queen in the HBO series, Rome. Although, eye makeup certainly existed before Cleopatra's first big screen appearance, it wasn't until Taylor's magnetic portrayal that this particular style went mainstream and gained worldwide popularity.
Elizabeth Taylor will always be remembered for her striking looks, as well as how she inspired countless women in how to look beautiful and confident all at the same time.
That's all !
©Glamourdaze 2018 
See also Elizabeth Taylor's Cleopatra Eyes Tutorial.