1940's Makeup and Beauty guides.
Learn the look of the 1940's bombshell beauty !A beautifully restored 1940s make-up  book by the famous Westmore's -makeup artists to the stars!
Restored and beautifully illustrated ! The defined style of the 1940s war era was red lips, prominent eyes and glorious long hair which could be tied in to up-dos or in a turban if a girl worked in a factory – as many did.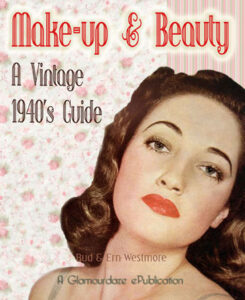 Girls then had many trade secrets that are not commonly known today.
Despite the grim reality of war – women fought to hold on to their femininity and in doing so achieved a glamor that has for many left an indelible impression on how women looked in that era.
You'll learn some interesting tips like:
What is Beauty ? What is Glamour ?
1940s eye makeup tips.
Pin up girl makeup styles
Make-up for your skin type.
How to restore beauty.
Do's and Don't s for your face .
Correct hairstyles for your face type
Correct Make-up for your eyes, nose and lips
The correct way to apply make-up
Glasses versus Glamour !
and so much more !
1940s beauty explained and 1940's Glamour defined!
It's all in this bumper book of 1940s beauty wisdom.
Make-up and Beauty – A 1940s guide is a treat for any true 1940s war style enthusiast. A trip on a time machine to a glamorous era.
You can also get the Vintage Make-up Guide Bundle, which includes all 1920's, 1930s, 1940's and 1950's guides. A real bargain!