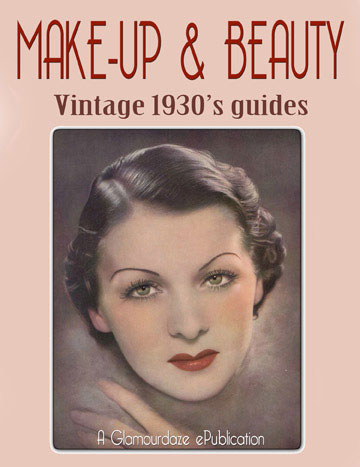 Stunning 1930's makeup look tutorials to download direct to your device. The Hollywood impact on women's face beauty and the emergence of consumer cosmetics
The 1930's Makeup Look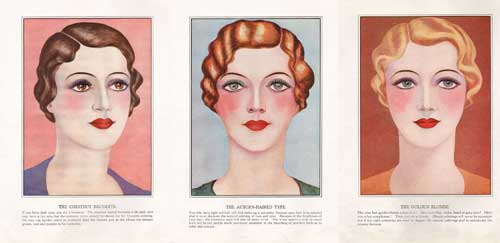 The gradual emancipation of women through the 1920's brought with it an independence of action, and there is no bolder way to express your femininity than with make-up.
Without a doubt, the art of women's make-up took off in strides during the 1930's with the help of Hollywood glamour and the new rage of full color fashion magazines.
Max Factor and Elizabeth Arden were becoming household names.The 1930's woman's makeup look was much more refined than in the 1920's.
1930's eye makeup look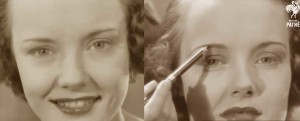 Gone were the heavy kohl eyes and in came pencil thin eyebrows and alluring pinks and shimmers. Mascara was now a necessity in a make-up kit, and the fashionable application techniques concentrated on the upper eyelashes, leaving the lower untouched. Eyeliner was traced from the tear duct with an upturned triangle  effect. Eye-shadows became more pear shaped with sweeping lines outwards to enlarge the eye.
1930s Lipstick style

Lip makeup replaced the bow look with a finer and thinned out horizontal shape, with a little extra on the upper lip in the evenings for that Rosebud effect. Popular colors were dark reds, maroons and raspberry tones.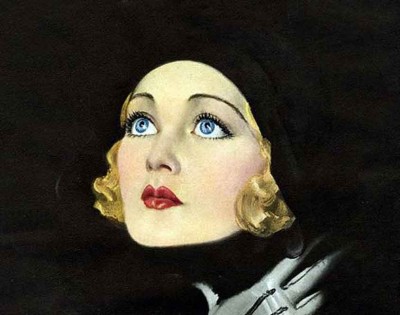 In our video Vintage 1930's Makeup & Skincare Guide, Constance Bennett provides some interesting insights to the daily beauty routine of a Hollywood Starlet.
She had this to say about wearing lipstick.
" I'd like to say this about lipstick – for years I've bought every one I've ever heard about,but I either ate them all up with my food, or left them on the cheeks of my son when I kissed him good night or good morning. Never did any part stay on me – most discouraging."
1930s Face
Blushes were more conservatively applied during daytime, with cream rouges becoming popular, followed by powder. Ms Bennett says "Sometimes I don't use powder at all, just my glow base, it gives my skin a nice lustrous glow!" The idea of facial contouring, i.e changing the actual face shape, was now followed at every dressing table. Now go and watch the Vintage 1930s beauty Guide video featuring Constance Bennett, along with our other vintage beauty guides in our vintage makeup film archive
You can instantly download direct to your smartphone, tablet or desktop – beautiful original vintage makeup tutorial books from the 1920's, 1930's, 1940's, 1950's and the 1960's.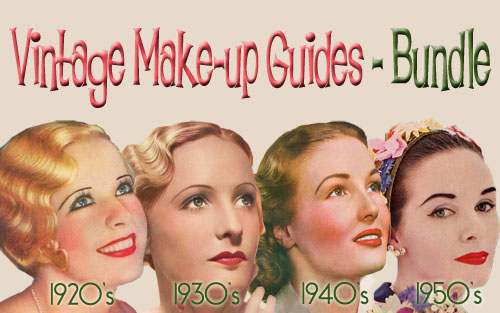 For a complete history of 1930's makeup and beauty, the key looks and loads of image galleries – visit our sister channel Glamourdaze.
For a complete history of 1930's makeup and beauty, the key looks and loads of image galleries – visit our sister channel Glamour Daze.
Gallery of 1930's Makeup Looks 
[nggallery id=9]