Vintage 1940's Makeup Tutorials
Vintage 1940s makeup tutorials, books, videos and history. The iconic 1940's WW2 woman with her vivacious red lipstick and pomp hairstyle
Despite war rationing, women round the developed world began applying makeup from their teen years. Only twenty years earlier this would have been unthinkable.
Table of Contents
1940's Makeup Look – Key Trends
Vintage 1940's Makeup Tutorial Video – 1946
1940's Makeup – Foundation
Download 1940's Makeup Tutorial Books
Eye Makeup style
Lipstick shades of the 1940's
The 1940's Method of Applying Rouge Makeup
Women in WW2 – Makeup Advice for Christmas
The 1940's Makeup Look – Key Trends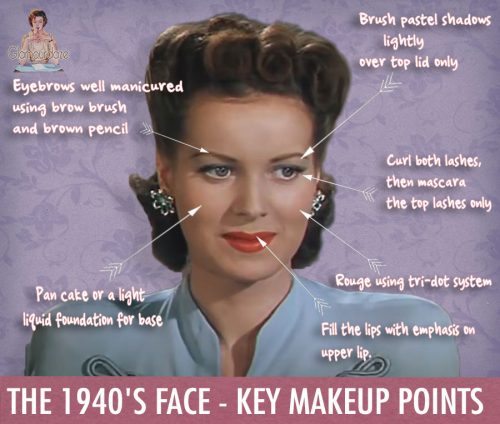 Eyebrows well manicured using brow brush and brown pencil
Brush pastel shadows over top lid only
Curl both lashes, then mascara the top lashes only
Apply rouge using the tri dot system.
Fill the lips with emphasis on upper lip
Pan cake or light liquid foundation
Vintage 1940's Makeup Tutorial Video – 1946
This remarkable film from our YouTube vintage fashion archive demonstrates, a step by step makeup and hair tutorial for young women in 1946. It's pretty popular ! Watch the film through or scroll down for some highlights.
1940's Makeup Foundation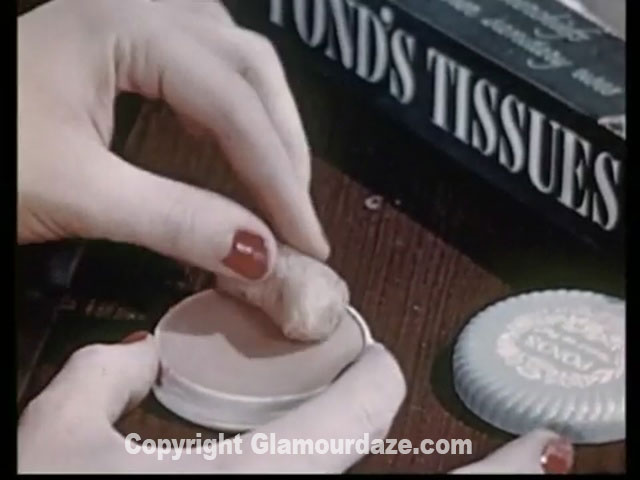 A cream base were the most commonly used. Liquid foundation could be saved for special occasions. Today, to achieve that 1940's look, just use your own foundation to get the base.Then apply loose powder in a thin arch from the top of your cheekbone up toward the temples. The idea is to get a true triangle effect!
Download 1940's Makeup Tutorial Books
Learn the genuine makeup looks as read by women in the 1940's, with our beautiful 1940s Makeup Guides, available for instant download.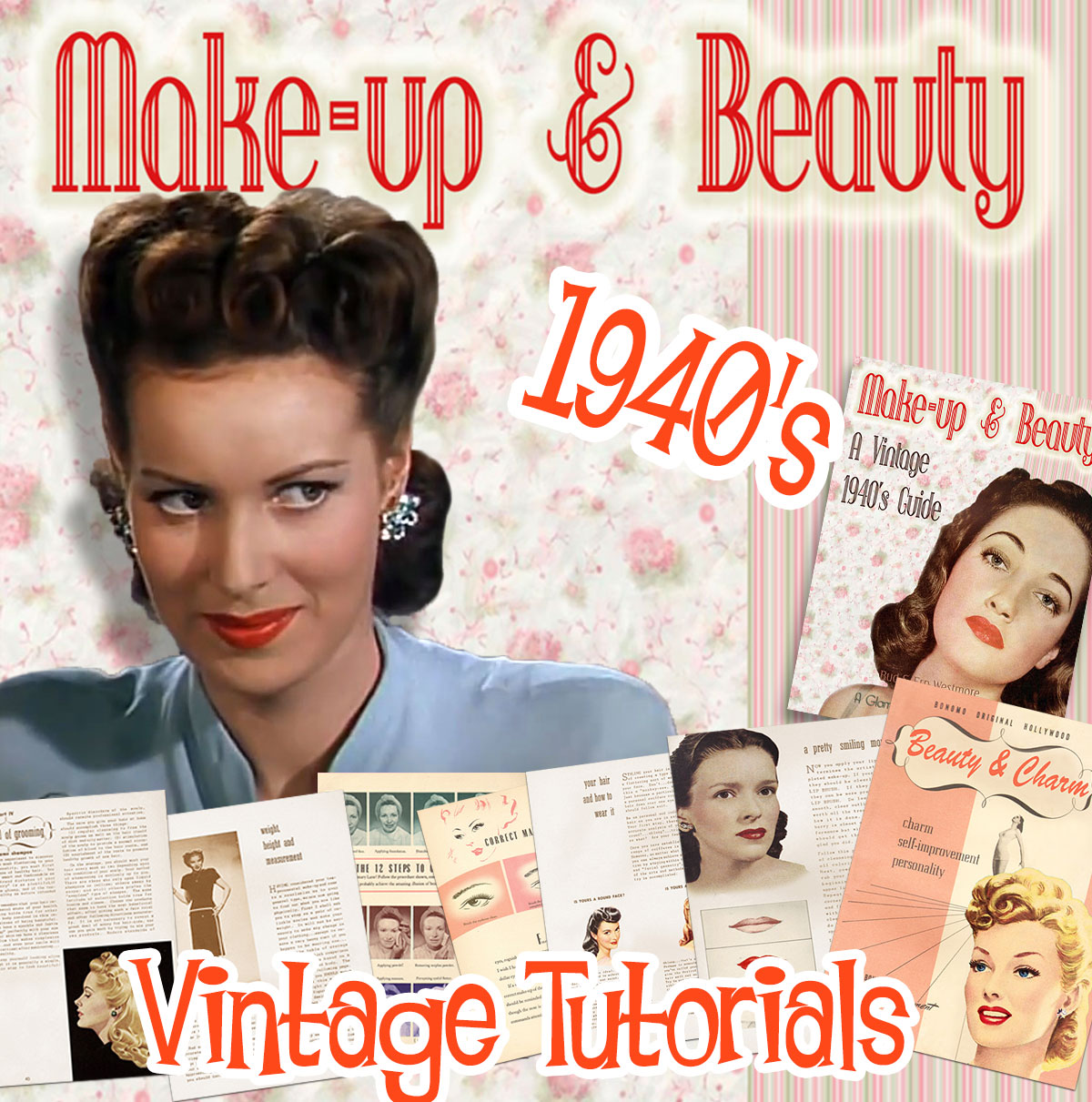 1940's Eye Makeup style.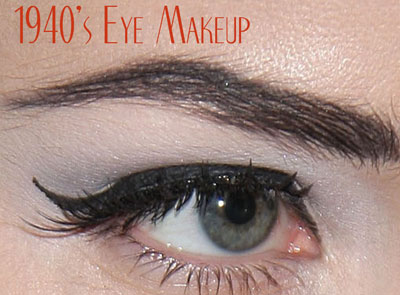 In the 1940's, it was all about the smoldering eye!
You started with a well defined natural brow. Draw a clearly defined arch with your pencil. Eye-shadow techniques for the early 1940s concentrated on the sockets and left the brows largely untouched. The 1940s film noir look heralded the winged look and cat eye-liner style.
Lashings of black mascara to finish off, with emphasis on upper lashes.
1940's Lipstick Shades
Lipstick color during the war was red in every possible shade.  Light reds, fuchsia, pink reds and orange reds ! Finish with nail varnish to match your lips A popular nail look was to leave the cuticle and the very tip of the nail without paint.
The 1940's Method of Applying Rouge Makeup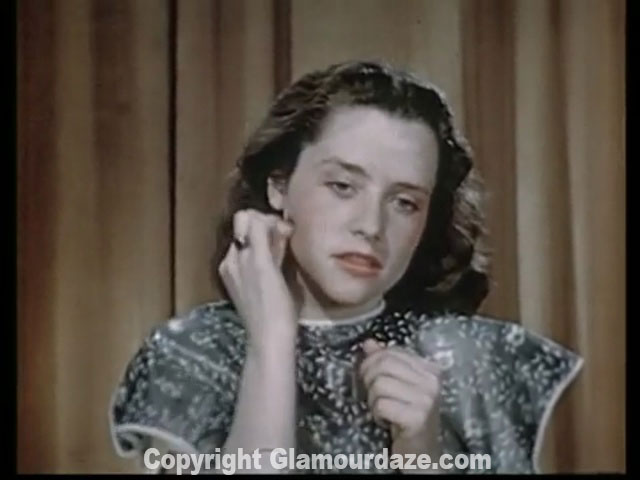 Rouge was applied sparingly. Use the Tri-dot system. One dot directly below the pupil of the eye. The second near the cheek bone. Apply the third dot no lower than the tip of the nose. Then blend upwards with a sponge.
Women in WW2 – Makeup Advice for Christmas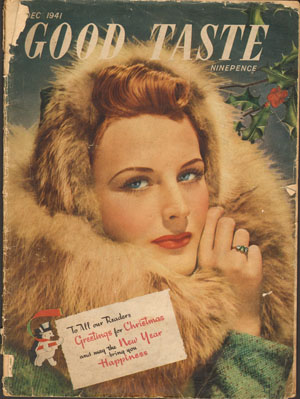 This advice was given in a London fashion magazine to women for Christmas 1940, a nation under siege from Nazi Germany !
" What is a Christmas party face in 1940s London? Wear a stay put foundation, preferably tinted, a rosy red rouge and matching lipstick. Amber lights of theaters and restaurants reduce vermilion colored lips to a ghastly pallor. Try holly red, to stay in tune with the Christmas spirit – and it's a real dazzler this season. Put plenty of emphasis on the eyes, a spot of sparkly eye-shadow that you've no doubt being hoarding this past year for the right occasion. Just a hair line of mascara under the lower lashes, lashes which you've conditioned with lash cream ".
For a complete history of 1940's makeup and beauty, the key looks and loads of image galleries – visit our sister channel Glamourdaze.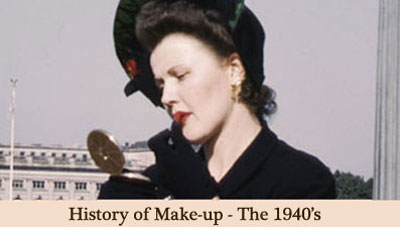 Gallery of 1940's Makeup Looks.
[nggallery id=10]
For in depth posts on 1940s makeup from eyes, lips to nails –
Visit our sister channel –  Glamour Daze.
Below are links to our top posts – some drawn from our vintage makeup guides on sale here for instant download.
1940's Make-up – The Lipstick Decade
1940s Fashion – Eye Make-up Look
1940s Makeup and Beauty Guide
1940's Make-up Tricks – Ladies Home Journal 1944
1940s Beauty Secrets – Hair and Face contouring
1940s Vintage Make-up Guides – Introduction
1940's Makeup guide – Lovely Lips masterclass
Correct way to apply 1940s makeup
1940s Beauty Tutorial – Right vs Wrong looks
1940s Lipstick Color Plan