A Morning and Night Guide for a flawless complexion –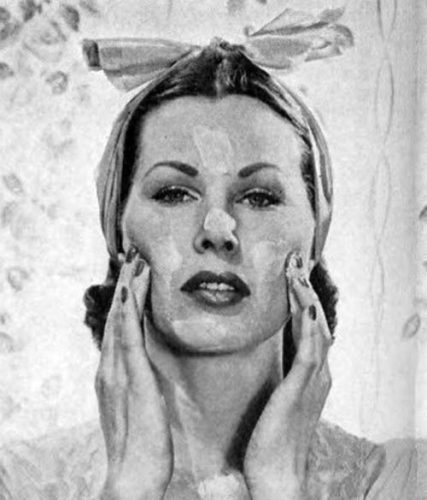 Though Nature pays big dividends in skin health and beauty when proper diet and exercise are observed, Nature cannot wash your face for you! That is why a most important factor in 1940s skin beauty is correct, scrupulous cleansing and massaging, twice daily.
Although failure to cleanse the skin thoroughly is the reason for most poor complexions you see, these women would be the first to be shocked if they were told that they have a "dirty face." Though they follow some kind of cleansing routine, they just aren't ridding their skin of dirt and waste materials that cause a dull, muddy complexion. Oil and surface dirt may be removed with soap and water but proper cleansing of the skin also requires creams that soften dirt and loosen make-up in pore openings, and other creams that lubricate the skin which is constantly being robbed of natural oils.
1940s Morning Skin Beauty Routine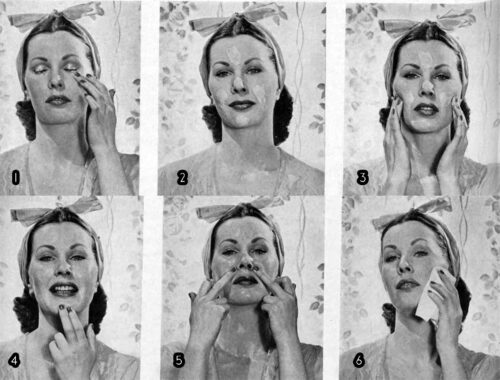 1. Put a blob of cream on each eyelid and stroke down over lashes. Remove with tissue, open eyes, and remove mascara and cream from under the eyes.
2. Place generous supply of cream on face and at base of neck. Then spread cream upward over the neck and forehead, and back over the face.
3. Using fingertips on both hands, smooth cream upward and outward with quick, light strokes. Use very little pressure.
4. Make little circles with finger-tips on chin so that the cream gets down after the dirt. The chin needs extra attention as it is apt to be a dirt cache.
5. Use circular movements with fingertips around and over the nose, as make-up and dirt accumulate around the nostrils.
6. Remove cream lightly, and don't stint on tissues. Never pull down on the skin. Dollow with skin astringent applied with cotton. Your face is now ready for your daily make-up.
1940s Night-time Skin Beauty Routine
The final step to loveliness comes with lubrication and massage of your skin at bedtime. A treat for your face for looking so sweet all day long. Use night creams which contain lanolin, which softens dry and flaky skin. The cream should be spread in a thin film over throat and face and massaged lightly over the skin.
1. Follow neckline from collarbone to ear, alternating hands and working on both sides of the neck.
2. Work fingers upward in scissor-like movement along jaw under chin from chin to ears.
3. Use back of hands lift firmly and pat on either side of jaw, molding muscles upward.
4. Follow lines that curve around mouth to base of nostrils then to temples.
5. For frown lines smooth cream up from bridge of nose over creases, and pat until skin tingles.
6. Gently stroke cream from bridge of nose upward over the eyes, and outward under the eyes.
That's all !
©Glamourdaze 2018
Download direct to your device – the 1940s WW2 Women Memorabilia Pack.