Hollywood Eyes – 1930s Makeup Tutorial
Courtesy of Pathe News Vintage Fashion channel on Youtube this is a charming if short makeup lesson for young and old women ( you were old if over 40 years back then!)
Ladies,do you know where to put the accent – so far as your facial appearance is concerned?
We've asked Jeanne Barry, women's editor for Woman's Fair to show you.
1930s Makeup tips for the eyes.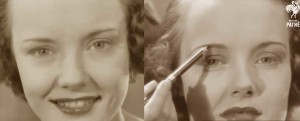 Now here's a girl with hardly any makeup. She's attractive but is she making the best of herself?
Where should she put the accent?
First we'll tackle the eyebrows.
We know where to draw the line. Brows are extended slightly,and
shaped to provide a pleasing frame for the liquid. Now a subtle touch of eyeshadow completes the picture.

As she was and bless her – as she is!
1930s Makeup Tips for Girls who wear Glasses.
If you need to wear glasses – be sure that dark frames don't make you look too severe!
Frames should be as unobtrusive as possible and the accent on the mouth distracts attention from them.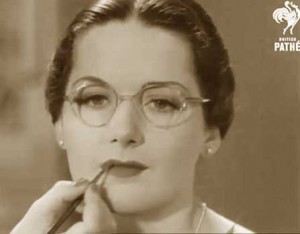 These aren't lips that pass in the night – they can be made permanently attractive by proper makeup.
As she was and as she is now.
That's all !
©Glamourdaze
Also Read : Girls Who Wear Glasses – 1940s beauty tips
Download to your smart phone – original 1930s Makeup Guides
For more on 1930s makeup looks – see the lavishly illustrated History of makeup – The 1930s.