Visit Tia Semer's Eliza cosmetics Facebook page and get the 1920s Theda Bara lip rouge you see featured here!
WATCH THE FULL TUTORIAL AND FOLLOW STEPS BELOW!
Step1 – Prep Lips with a balm ( a bomb???)
Step2 – Blend concealer into your lips
Step3 – Line the upper lips staying well within the matural borders of your lip, for a shorter look.
End your line before the natural edge of the lip for a narrower appearance.
Step4 – Slightly enhance the centre edge of the lower lip, corners of the lower lip flaring inward – short of the natural edge of the lip!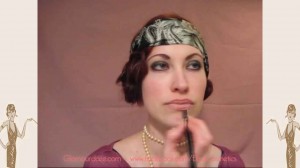 Step5 – Fill in with your lip liner – your lip color will last longer this way.
Step6 – Now go over your lipliner with an appropriately 1920s shade of lipstick. Popular colors were deep reds, plums – even orange and rose tones. I used the "Theda" shade from my own make-up line, Eliza Cosmetics.
 Step7 – Finished lips !