Talking to Max Factor in 1934 –
"It's not Sex Appeal .. just Common Sense ! – Mae West 1934″
Leave no trace of rouge … for blondes, avoid dark brows …Vaseline over shadows …
Hollywood has come to know it as the "Mae West MM-mmm" with plenty of accent on the first M …. Absolutely devastating, this "MM-mmm" – and twice as effective as " IT," "X" and all the rest.
" Eve had it," observes Mae. " And the whole female tribe inherited it – only some of them haven't learned that yet and others just let it all dry up! And you don't hear about 'those' women let me tell you."
" A full length mirror is essential – yes dear – just like that old wicked witch had, but no spells are needed – just some make-up sense"
I've been a cosmetician to the court of Russia and to the court of Hollywood for half a century now but I've never seen any woman with greater allure than Mae West. And no small part of it is due to her supreme skill in applying make-up!
PURCHASE VINTAGE STYLE MAKEUP
After all, it's your "average" face that stamps you for what you are. Not the dress up face over which you spend hours for special occasions. And Mae presents to the world at all times delicately heightened features with that "softened£ look. Not a trace of powder or rouge discernible.
Eyebrows for Blondes – Mae West beauty hint
Also – note – as a blonde, she has no emphatic line above the eyes!
This is a mistake frequently made by blondes especially – thinking their eyebrows must be as dark as their eyelashes. " It gives a girl a hard, brittle look which makes men nervous!" explains Mae. " A woman with softness in make-up instantly is attractive. Now in front of a camera – I have to bend those rules but on the street – my curved complexion is my best feature and not a pair of hard brows ! "
 Eye-shadow secret – Mae West Beauty hint
Eyes that glitter are not always gold ! – Mae West
"During the day I use very little mascara on my lashes and just a touch of gray eye shadow on my lids. My secrets then is to dab a teeny speck of Vaseline over the shadow. It not only is good for my lids but adds a lovely soft look.
Invisible Rouge – Mae West beauty hint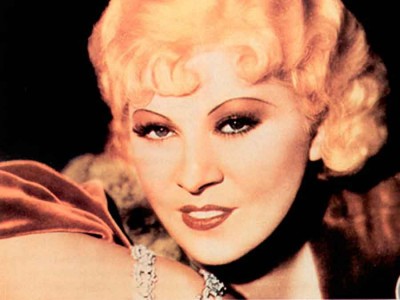 One thing you may notice is that Mae's whole face has a rosy glow that is gently accentuated over her cheek bones. There is no sudden spot of rouge red. " I know better than that, as I have light hair and a light complexion, it's wiser to have a diffusion of color over my whole face for a feminine glow!
Take your rouge puff and pat your rouge very, very carefully, beginning at temple and spreading over the cheeks. then blend down toward chin. Deepen a little round cheekbone but spread evenly over whole cheek to get a light tint of a glow."
That's all !
Text©Glamourdaze 2014
Originally published by Hollywood – 1934.
Courtesy of the Media History Project