My favorite decade bar none when it comes to vintage makeup and beauty. It was the era of Hollywood and the huge explosion in beauty consumerism. Despite the global depression, women chose to be colorful.
Silver threads among the gold – and her delicate complexion is losing its wild-rose pink, becoming a little washed out. Blush-red rouge on cheeks and lips is needed to give her face animation, soft blue shadow to make her eyes seem bluer, brown cosmetics to define light lashes and whitening eyebrows.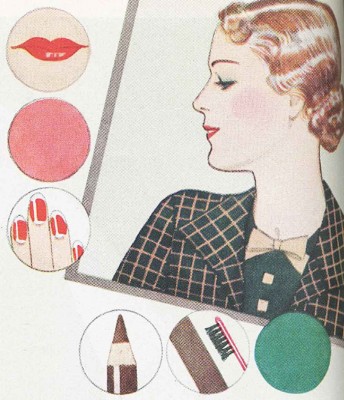 This woman has a son in college and her once flamingo red head is now a subdued tweed effect. Her face is inclined to be ruddy, so she shuns hard, bright colors and chooses soft, rich tones. She uses orange-red lipstick – not too bright – and she plays up her eyes with green shadow and brown mascara.
Eyes rather light, skin rather sallow, hair in the difficult stage between brown and white. She keeps away from dull neutral colors and chooses clothes and make-up that give her face warmth without overwhelming it. One effect is suggested in the cosmetics and the soft green dress shown.
She was a true brunette, with dark eyes and hair and tanned skin. Now her hair is iron gray, and her complexion is losing its vibrant tone; but a smooth, chic coiffure, nasturtium lipstick, a touch of black on lashes and eyebrows, and smartly lacquered nails keep her looking young and handsome.
That's all !
Text©Glamourdaze 2015
Source Genibee – Flickr
Download instantly to your smartphone, tablet or desktop – these beautifully restored vintage makeup guides from the 1920s to the 1950s.