British Pathe 1950s cosmetics film-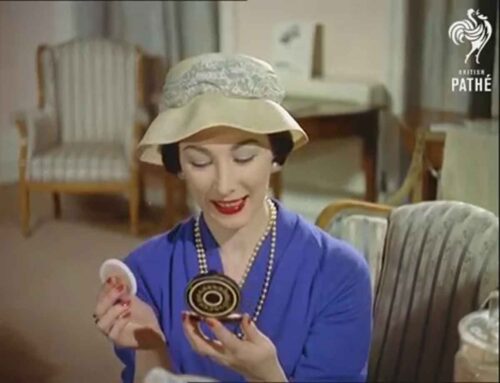 The preparation of 1950s cosmetics is an art that would intrigue any scientist.
This lovely color film demonstrates how a vintage powder compact was made in 1958.
In the mixing of face powders for example, many factors have to be taken in to consideration before the right formula is ascertained.
A source of amazement to anyone but the beautician is the number of surprisingly vivid colours that go in to any preparation. Yet after a thorough and expert blending, that kaleidoscope of colour produces one rather subdued shade.
Cosmetics are an art today.
In the 17th century, a man could legally divorce his wife if she wore cosmetics.
The act also applied to false teeth, false hair and stays, because they were akin …to witchcraft !
In practically every sphere, progress has taken things almost beyond recognition.
A machine that's capable of pressing blending powder into a compact. Exerting a pressure of two tons!
We're sorry we can't give you the formula for this powder, it's strictly tip top secret, but needless to say, women, shrewd as they are ..prefer it that way !
text©Glamourdaze 2016
Images ©Pathe News
See the original Pathe Film Mixing Face Powder 1959
Download direct to your device – beautifully illustrated vintage makeup guides from all eras !!