Essential Beauty First Aids – 1931 –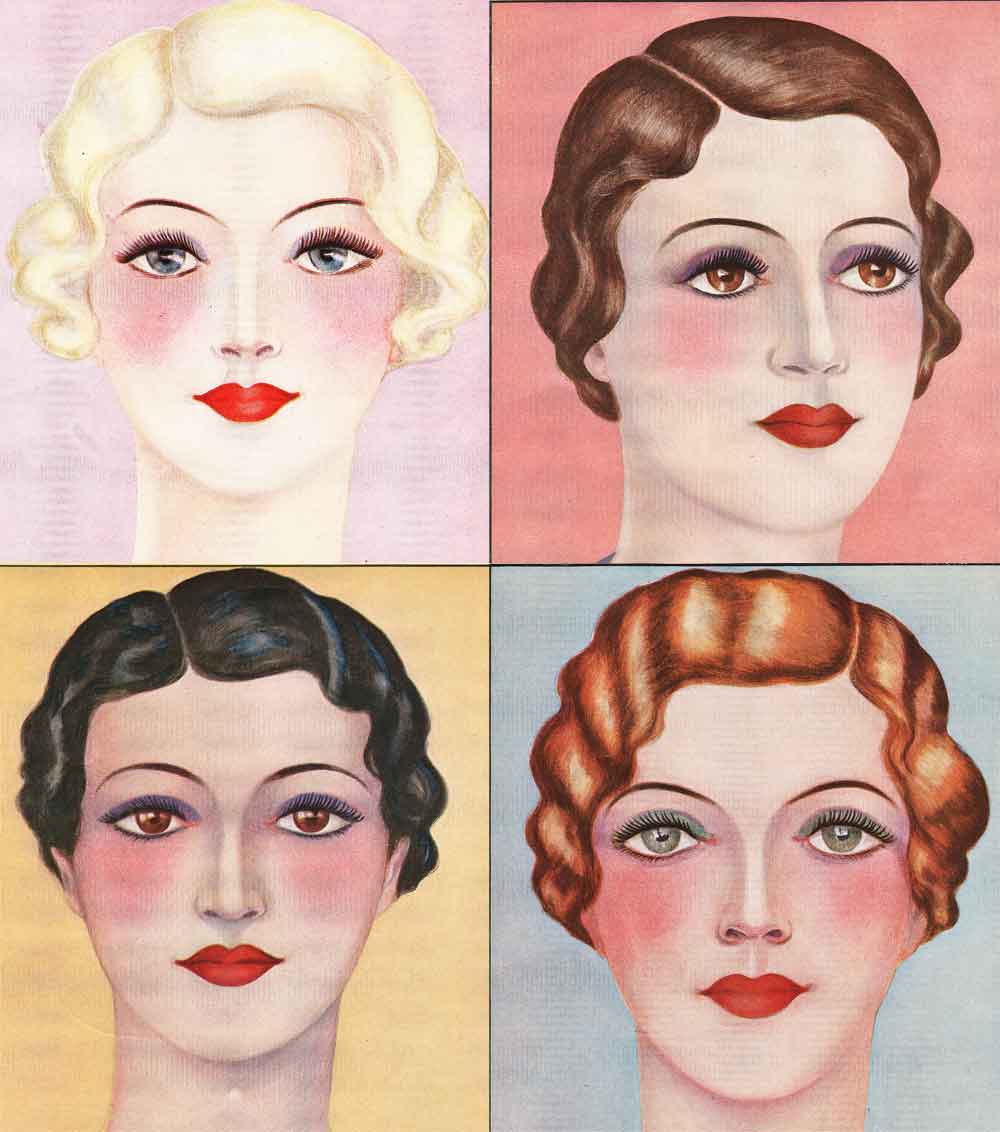 Let's kiss and make up. or maybe we'd better make up first ! This is our chance to prove our artistry. Maybe we can't paint a landscape or sculpt in marble, but how we can create new faces and carmine those lily cheeks !
We can make up our face to suit ourselves. But be sure it suits. of course, even then we have a good deal of leeway. Only one face, true; but so many selves, so many models to express! From sweet cherubic to vampish !
The make-up box and its attendant aids are fast becoming the art school of the modern maid and matron.
It is wisest usually to see if we haven't neglected a few of our best points before deciding to make radical changes in our face to the world.
Consider enhancing your own albeit unsophisticated charms before deciding to go platinum blonde haired, ochre powdered and heavily carmined.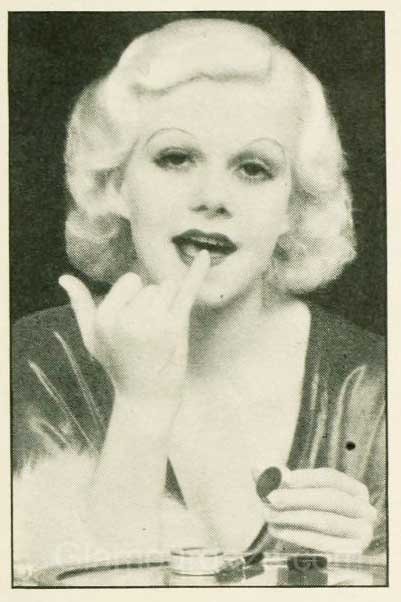 Jean Harlow suits the blonde look with her fair skin. She wears a light natural powder and is very careful selecting her rouge, because Miss Harlow knows that harsh shades or too much of any tone will cheapen her look. She chooses true red cream rouge for her lips.
Claudia Dell demonstrates correct beauty first-aids.
Image A – how to apply eye shadow with your finger. You can't beat this natural method. Do not use more than will make your eyes bright.
Image B – Miss Dell shows how to touch up the lips on their natural line. Give the lips more curve, if necessary, by extending the rouge area. Also bring the rouge well into the inside; rouge and teeth set each other off.
Image C – Powder carefully. Do not daub it on, but gently pat, and be sure to blend out all the marks.
Image D – Always brush a bit of rouge lightly under the skin if your face is full !
Make-up Warnings !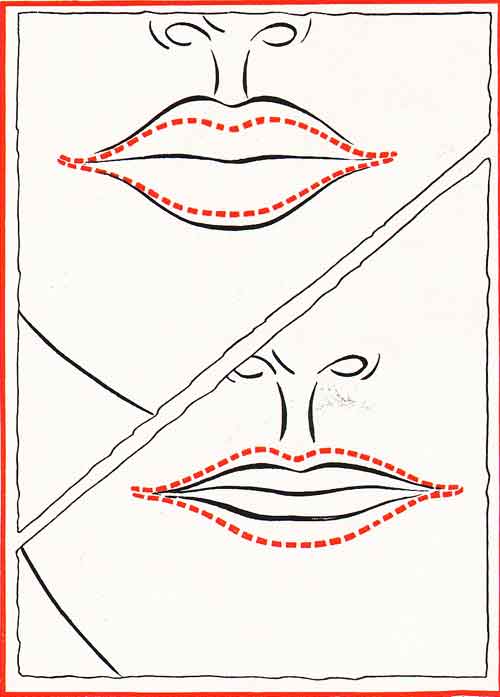 Lipstick is a dangerous tool in the hands of many women. the best effect of lip colouring will always be achieved if the natural line of mouth is followed. Large mouths are decidedly in style but if you feel your gob is too large, apply more heavily in the centre and more sparingly as you move outwards
Rouge should match your natural flush in daytime, very subtle. at night the shading may be more daring and have at least four tones to choose from when it comes to evening rouge.
Eyebrow shaping is the first step in making up the eyebrows. The thin plucked brow is most definitely what you will wish for with the exquisite brows of Greta Garbo and Jean Harlow to emulate.
We can affect the Harlow line but it will mean plucking good bye to your original brows and you may not look as fetching as Jean.
Experiment first before you start tweezing by covering your brows with foundation concealer and drawing in the thinner brow to see if it truly suits.
Once this is achieved, you can then have plenty of fun finding your right shade of eyeshadow.
That's all
©Glamourdaze 2015
Originally published New Movie Magazine 1931
Download direct to your smartphone, tablet or laptop – beautifully restored original 1930s makeup guides and more.